...or vegan, Orthodox Jew, Muslim, or belong to some other sect of people who do not partake in the eating of pork products. Just hit up the archives and we'll get back to you later. No offense. The door is that way... sorry about the trouble. See you Monday.
Are they gone?!
LET'S TALK ABOUT BACON! WAHOOOOOOOOOO!
This morning, my coworker asked me, "What is up with this sudden bacon craze?"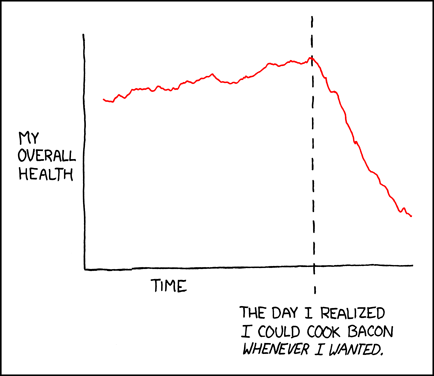 I explained to him that this "sudden" craze has been going strong for several years. I rattled off the bacon products I could think of off the top of my head: bacon dental floss, chocolate covered bacon...
"I don't see what is so refreshing about bacon? Why would you want to brush your teeth and smell like bacon? Sure, bacon is good... but it's not exactly the nectar of the Gods.
There has to be at least 300 other foods I'd rather eat besides bacon," coworker said.
Woah. Woooah. Hang on right there, buddy. That's a pretty blasphemous thing to say about bacon. 300 things you would rather eat before bacon? I can understand having a
few
things you would rather eat before bacon... maybe tacos, sushi, eggrolls, guacamole, pumpkin pie, mint chocolate chip ice cream.... but
300!?
Whhhaaaahhh?
I retorted quickly with a death glare: "My list of things I'd rather eat besides bacon is not quite THAT long... there's probably only about 30 things at the most that I'd rather eat besides bacon."
Okay, so my number is 30.
What's yours?
UPDATE: See my detailed list
here
.